ENG


Back in 2016 in Hamburg, Germany, I had the chance to join to a team of mobile developers at GOOD GAME STUDIOS to unite efforts with the Lead UI designer in order to help to push the existing UI Art style to a new level, under supervision of an Art Director, for a project called INFERNALS, a project that was already close to be published. 
When I step in on this mobile game my responsibility was to establish a new UI visual art style and layout design in cooperation with the Lead UI Designer and the UX Designer. 

The project was initially conceived to be played in mobile phones but sooner the developers start to think in new platforms as tablets and desk screens, so the main goal was to create and design and assets that could work efficiently on all those platforms. 

Unfortunately, with time, the studio developer was shutdown and the project canceled, but I'm happy to share with you a small part of the work I have done.
*Some of the iconography on this images was created by the Lead UI Designer, my friend Oliver Kreiss
ESP


En el 2016, en Hamburgo, Alemania, tuve el chance de unirme a un grupo de desarrolladores de juegos para móviles, para unir esfuerzos junto al Lead UI Designer para mejorar el estilo artístico que el proyecto ya tenía, y ello bajo supervisión de un Director de Arte, para un proyecto llamado INFERNALS, un proyecto que estaba a punto de ser publicado. Cuando me uní al grupo de trabajo mi responsabilidad fue la de ayudar a establecer un nuevo lenguaje visual para la interface con ayuda del Lead UI Designer y del UX Designer.
El proyecto fue concebido inicialmente para ser jugad en teléfonos móviles pero pronto los desarrolladores empezaron a pensar en diferentes plataformas como tabletas y pantallas de escritorio, entonces el principal objetivo fue crear elementos que puedan trabajar bien es múltiples plataformas.
*Algunos de los iconos mostrados en las siguientes imágenes fueron creados por mi amigo el Lead UI Designer, Oliver Kreiss.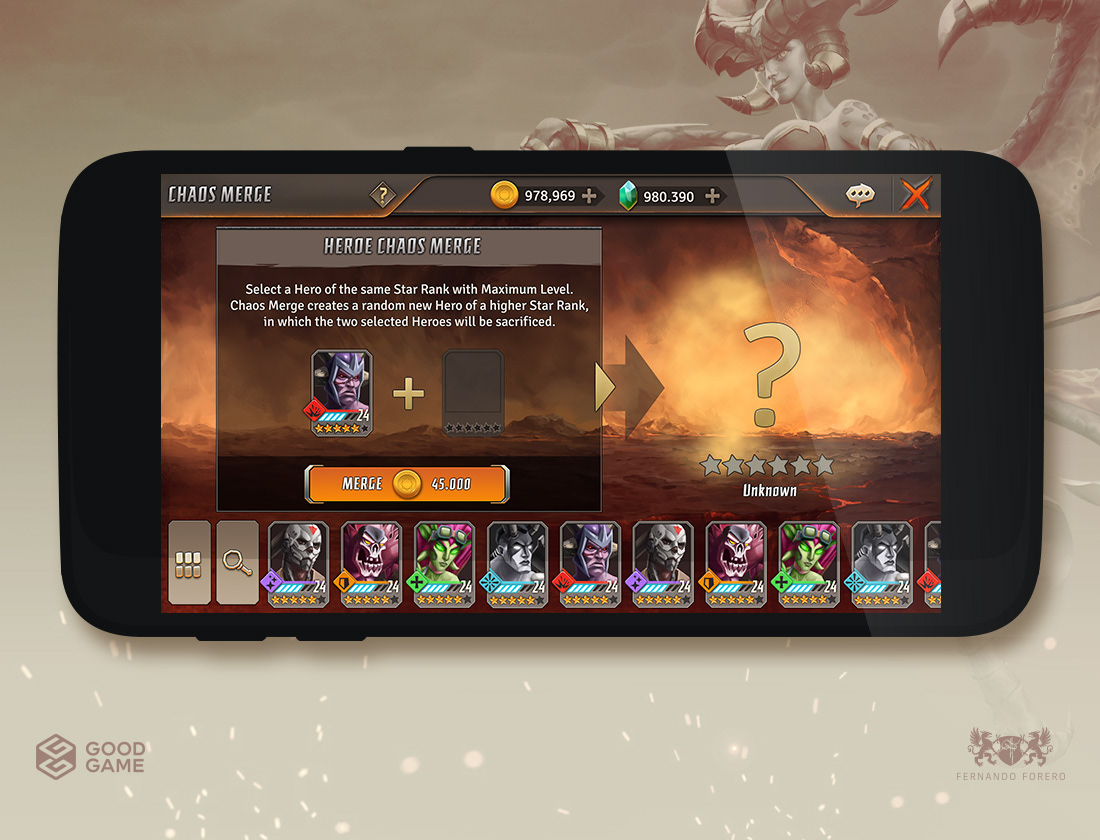 Special thanks:
Oliver Kreiss, Ruud Görtz and Oliver Kutnik
_
My work is always dedicated to my beloved wife, Weronika.